Our Goal is Simple —
Help You Achieve Yours!
For over 35 years, Partners In Learning has set the national standard in school-to-student communication and PBIS branding strategies. In over 85,000 K–12 schools throughout America and Canada, our innovative communication tools help motivate students, inspire teachers and staff, engage parents, and embrace the surrounding communities. Our expertise in creating exciting visual communication solutions can aid in sustaining PBIS enthusiasm and student success year after year.

Incorporating years of Disney Imagineering and branding experience, our professional designers will collaborate with your PBIS team to brand your program and school by delivering innovative and powerful signage, message banners, and student recognition tools that will personalize your learning environment and bring your school's culture to life. We'll work with you and your staff to provide ideas, develop solutions, sustain your program and take your outcome data visually to the next level. In other words, we add quality and value and branding expertise to every PBIS program we touch!

I invite you to browse our website to see first hand how our timely communication tools can help support and enhance your PBIS outreach objectives school wide. I also encourage you to contact me directly to collaborate and discuss visual options and tailored solutions for all PBIS budgets. Together, we are limited only by imagination!
TOM SHARRIT, CHIEF CREATIVE OFFICER
PARTNERS IN LEARNING PROGRAMS, INC.
Branding helps build and maintain a positive social culture!
Our mission is to promote and sustain a common language school-wide
We deliver eye-catching designs created to:
• Convey, drive, and stress core values on a daily basis.
• Emphasize and promote desired social behavior school-wide.
• Communicate common rules and expectations by setting.
• Actively involve 100% of faculty and engage parents.
• Deliver positive reinforcement messages school-wide where students need it most.
• Recognize students for good behavior.
• Maximize funding resources.
Working with us is as easy as…
Email your PBIS Core Values, school colors and mascot to pbis@pilpinc.com.

• Send your matrix as an editable Word, Excel, or PDF document.
• Choose the best quality files available for your logo or mascot—we prefer .ai, .eps, .svg, .pdf, or .psd files when possible. If your artwork is too low-resolution for quality printing, our professional designers can recreate it for you! (Additional fee may apply.)

Our designers will create a custom Look & Feel layout branding your school's PBIS program for your approval.

• Should your tiger mascot to be cute or fierce? Fun and playful typography, or maybe something a little more edgy? We'll match your Look & Feel to the tone and culture of your school, from elementary to high school!

Once you approve your new design, choose the right products and packages to fit your budget and school-wide messaging strategy.

• Select one of our featured PBIS Packages, or choose the customized, targeted signage that meets your school's unique needs.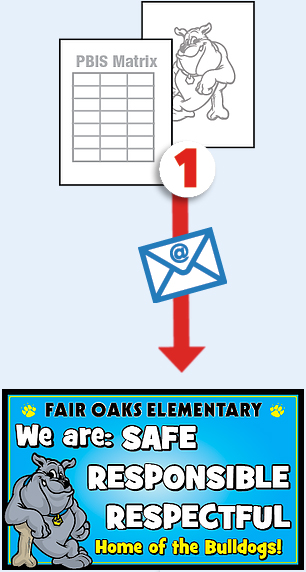 If your learning environment could talk, what would it say?
The Right Message
in the Right Place
Choose the settings throughout your school where your PBIS matrix, core values and behavior expectations will engage students daily. We offer a wide range of visual solutions to get your PBIS message out to every corner of your campus!
For new teams:
Once you choose your PBIS core values (3–5 key traits, or an acronym) we can create your branded Look & Feel to immediately introduce your new PBIS program school-wide. When your matrix and behavior expectations have been finalized, we'll help you expand your messaging strategy with additional branded items for each setting in your school.